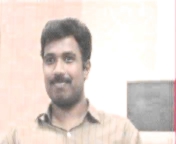 So u really want to know about me huh ?
  My Full Name is Aravinda Kebballi N.
  Kebballi is the name of the place, It is village in the
  Kunigal taluk of Tumkur district. My middle intial expands to Ningaiah.
  Ningaiah was my beloved father. I miss him so much. 
  

  I am very proud to say that first i am Indian and then i am a 
  Kannadiga. 
  Please tell me how did u find me, i am very curious about this.
  U must have genrally slipped via some links and must have landed
  into my cyber space. Nevertheless, u are here and i do not want to
  dissapoint you. And also i do not want to bug you by telling long 
  stories. Since my childhood i have been a great dreamer.
  

  I am from Mandya (richest district of beautiful state Karnataka). 
  Did my schooling in St. Joseph's and Mysugar high School Mandya.
  Did my graduation in PES College of Engineering Mandya ,
  computer Science 1988-1992(let me know if u were frm there).
  Did my Post Graduation in BMS College of Engineering Bangalore,
  computer Science 1994 to mid 1995(let me know if u were from there). 
  Currently i am living in Poughkeepsie, NY.    

  You are still reading this oh Great !.  go on ...
  As fas as my interests are concerned i like traveling, music, sports, 
  movies and last but not least internet surfing.
  

  Enogh bugging , i think so, don't you ?
  Before u move out, i will tell u the quote i liked very much. 


  "Think like a duck, over the surface calm and unruffeled, under the
   surface paddle like hell" 
                           - anonymous 




  Have  nice  Surfing....... Meet u  sometime  somewhere some 
  how in-person. have nice surffing. Have several nice days !!!



    --see ya 
&copy 1997-1998 aravinda kebballi.