Siriganadam Gelge          Siriganadam Balge                Siriganadam Elge 



Nata sarvabauma, Gana gandarva, Rasikara raja, Padmabushna





A Legend in India Cinema Industry. A very popular Actor in Kannada Cinema Industry. He has been respected by prestigious "Dadha Saheb phalke " award for his outstanding contribution to the growth of the kannada film Industry. He has served more than four decades and acted more than 220 movies in Kannada. He is a recepient of thousands of awards. The people from karnatka will adore him. They will call him with love "Annavaru" meaning beloved elder brother.
He is known for his simplicity and generousity. A kind-hearted and peace loving person. His contribution to the film industry is incredible. He has served his whole life for the of the Kannada Cinema Industry. The 67-year-old actor has acted in over 200 films during a career spanning 35 years and is a household name in Karnataka. Starting off as a stage artiste at the age of 8, Raj Kumar made his debut as a film hero in 1954 with "Bedara Kannappa" which was a mega hit of those days and soon established himself as a marquee name in Kannada cinema not only as an actor but also as a singer and producer. He is also known for his philanthropic work. Needless to say he has created history in Kannada Cinema Industry which will never fade off.
He was been awarded nuemorous State National and International Awards. He is a Recipient of Padma Bhushan and a doctorate from Mysore University, he has won a number of national and State awards including the prestigious Karnataka Rathna Award recognising him as a ''jewel`` of Kannada films.
He has a huge fan following and his more memorable films include Bedara Kannapa, Bangaradha Manushya, Kastoori Nivasa , Babruvana, Bhakta Prahalada, Shankar Guru, Gandhadha Gudi, Jeevana chaitra, Akasmika etc., Anouncement has been made describing Raj Kumar as a "living legend" of Kannada screen.
Recently he is off from the cinema Industry, but his fans still wanted him. Expecting his new movie "Nrupathunga". He is the recepient of nuemorous National Award and Internationl awards.
To Name a few ...
State Awards : Karnataka ratna etc., National Awards : Dadha Shaeb Phalke award,Padhama Bushana etc., Inetrnational Awards : Kentucky Kernel etc. , He is famous Singer too. He has recieved numerous National award as a best singer. His Devotional Alumbum's are very popular.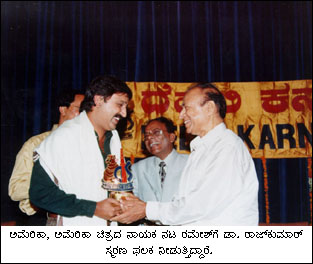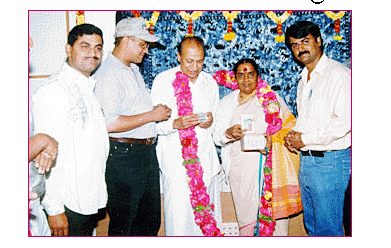 Find out More Info ..
Dr. Rajkumar - Kannada Matinee Idol
Dr. Rajkumar (click for more info)
Send the comments and suggestions

This page is created and maintained by Aravinda Kebballi.
&copy Copyright 1997, All rights reserved. arvinkn@hotmail.com
No portion of the picture or content should be copied/reproduced without prior permission.




Want to write Some Comments/Suggestions About this Page.!
Sign The Guestbook of This Page
Want to see What others Wrote About this Page !
View The Guestbook of this Page

This page has been hit

times