Please see here for details:
http://www.deccanherald.com/deccanherald/apr122006/update.asp


http://start.at/rajkumar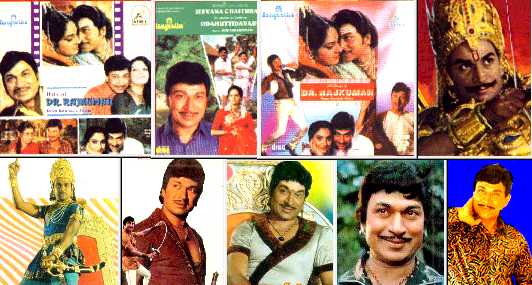 Popular Actor from Kannada Cine Industry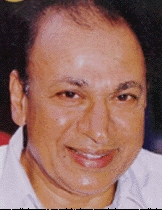 Dr. RAJKUMAR.




If u r not using Frames Version please Click Here


A Legend in Indian Cinema Industry. A very popular Actor from Kannada Cinema Industry. He has been honoured by prestigious "Dada Saheb phalke" award for his outstanding contribution to the growth of the kannada film Industry. He has served for more than four decades and acted in more than 220 movies in Kannada. He has received numerous awards.

Click Here to read in Kannada


The people of Karnataka adore him. They call him with love "Annavaru" meaning beloved elder brother. Dr. Raj Kumar entered the film industry at the age of eight years and got his first break as a hero in film "Bedara Kannappa" in 1954. Thereafter, he went on to work in over 220 films and became a household name in the Kannada-speaking world. He is known for his simplicity and generosity. A kind-hearted and peace loving person. His contribution to the film industry is incredible. He has served his whole life for the growth of the Kannada Cinema Industry. He is also a famous singer. However, his singing career started when he sang 'yaare kugadali' in Sampathige Savaal. His devotional songs have a touch of class. Needless to say he has created history in Kannada Cinema Industry which will never fade off. He fought for Kannada in Gokak Chaluvali. He has been awarded numerous State, National and International Awards. He is a Recipient of Padma Bhushan and a doctorate from Mysore University, he has won a number of national and State awards including the prestigious Karnataka Rathna Award recognising him as a ''jewel`` of Kannada films. In 1995 he received prestigious Dadasaheb Phalke award for his outstanding contribution to the Kannada film industry. He has a large fanfare following him. His memorable films Bedara Kannapa, Bangarada Manushya, Kastoori Nivasa , Kula gowrava,Gandhada Gudi, Sampahige Sawal, Shankar Guru, Babruvana, Bhakta Prahalada, Halu Jenu, Bhagyada Laxmi Baramma, Jeevana chaitra, Akasmika are only a few to name. The list can go on and on and on... Official announcement has been made describing Raj Kumar as a "living legend" of Kannada screen. Recently he is off from the cinema Industry, but his fans still want him to act expecting his new movies "Nrupathunga" and "Shabdavedi".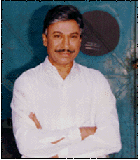 Photos courtesy: India Express, Sanjevani, Rediff on the Net, RIMM Archives, Sangeeta Music
Sanjevani Kannada online Magzine

Click Here to view Akasmika Photo Album (Courtesy - chirag-entertainers.com, Kannada Movie Promoters in US )
Find out More Info ..


Flash News

Kannada Matinee Idol

Filmography Courtesy RIMM Archives.


Photo Album

Incredible Singer

Fan Club

Songs of Rajkumar -Real audio sites

Kannada Related Links (Singara)


Please Sign the Guest Book - Athithi pusthaka sahi madi..


Want to write some Comments/Suggestions about this page.!
Sign The Guestbook of This Page
Want to see what others wrote about this page !
View The Guestbook of this Page
This Page has been Visited
Times

This Page is still under Construction !!!

Send the comments and suggestions
This page is created and maintained by Aravind.

Last Modified: Sun Feb 7 09:54:21 EST 1999. Copyright &copy 1997, All rights reserved. arvinkn@hotmail.com
No portion of the picture or content should be copied/reproduced without prior permission.


LinkExchange Member
Member of 123Banners